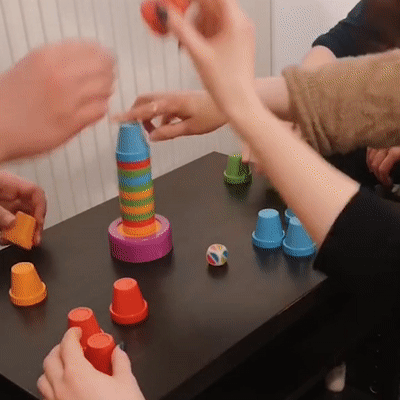 SPEED MATCHING GAME: This insanely fast and colorful game is perfect for those in need of speed. Designed to create a fun and fast paced environment,this color-matching Cup will have everyone on their toes!
CHILDREN AND FAMILY GAME: This 2 to 4 player speed game can be enjoyed by kids and parents as they race to win! Kids ages 6 and up can develop their focus and attention skills and learn how to process speed better
HOW TO PLAY: Quickly match the color on the inside of one of your cups to the color on the outside of the cup on top of the stack. Then slam that cup on top as fast as you can, before someone else beats you to it! Be the first player to stack all your cups to win!
INCLUDES: 1 Base, 24 Cups, 1 Starting Dice, Illustrated Rules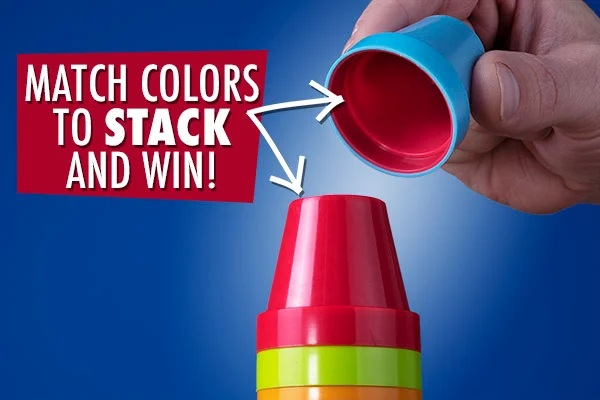 Race for the cup
Grab a gang and race to find out who's the superior slammer with this high-paced color-matching game.
Roll the die to determine the color you need to start the game, match your cups to the color on the top and slam them onto the stack as fast as you can. The first player to run out of cups to compile is crowned the chalice champion.
Features & specs
❤️A fast, frenzied color-matching and motor skills game
🧡Match the color on the inside of the cup to the cup atop the stack
💚2-4 Players
💙Ages 6 and Up
Includes: 1 base, 1 starting die, 24 cups (6 red, 6 teal, 6 green, and 6 yellow), and an illustrated rule book
Approx. box dimensions: 3.4" x 5.5" x 8.9" (8.6 cm x 14 cm x 22.6 cm)
Warning: Choking hazard, small parts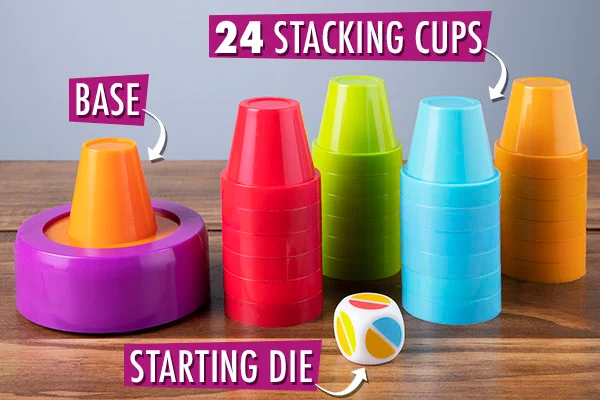 Frequently Asked Questions
Question: Is this game easy for children to learn?
Answer: Yes it is, and it's a great way to learn about colors!
Question: How long does it take to play?
Answer: Although there is no timer for this game, it is a fast-paced matching game so the rounds tend to progress quickly.
Free shipping on 2+ toys